[ad_1]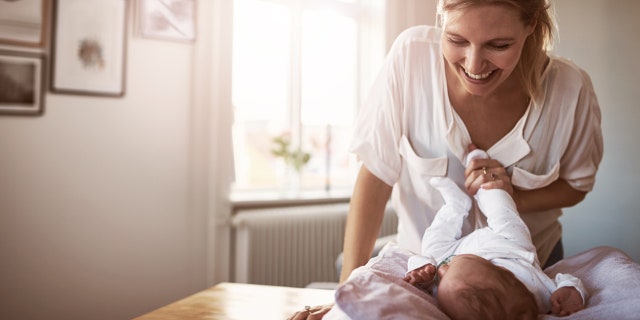 An Alabama mother has called out her local gym after being asked by a staffer to breastfeed in the bathroom because there was a man nearby.
Ruha Alford Tacey recently wrote about the incident on Facebook. According to Tacey, when she hit SportFit Athens on Sept. 11 for the first time since giving birth, her baby daughter struggled in the childcare room, so the new mom decided to breastfed the child to calm her down. When Tacey checked into the gym the next morning, baby in tow, the staffer at the front desk made the controversial request.
"'Hey, can I talk to you about something really quick?'" Tacey remembers the staffer saying. "'In terms of feeding your child, when you need to do that, could you just use the restroom?'" Shocked, Tacey questioned why.
"'Well, we're a family-friendly facility, you see, and yesterday while you were feeding her a man walked by the window,'" he responded.
KATE HUDSON'S 'LAZY' REMARK ABOUT C-SECTIONS SLAMMED BY ANGRY MOMS
Canceling her membership on the spot, Tacey wrote she was "bummed" by the episode. Further, she added that men shouldn't feel ashamed to see women breastfeeding, and if the gym was truly family-friendly, they'd support it. The staffer initially responded by saying he wasn't asking her not to breastfeed, but thought "a little discretion" was in order.
"It's hard enough getting to the gym and trying to work out despite a child with lots of separation anxiety. I was sad!" she said of the encounter.
MOM SHARES PHOTOS THREE WEEKS AFTER GIVING BIRTH TO SHOW 'REALISTIC' POST-PREGNANCY BODY
Despite the employee's judgement call, Tacey was legally in the right. As per Alabama Code Section 22 1-13, the state allows for breastfeeding in any public or private location where the mother is authorized to be.
Reacting quickly and showing support in the wake of the event, a group of breastfeeding mothers joined Tacey in holding a "nurse-in" on Sept. 13 to send a message to the fitness facility.
Tacey told Yahoo! Beauty that the gym's regional management has since apologized and regrets that she was made to feel unwelcome. Moving forward, the company reported that they plan to retrain all employees on breastfeeding laws.
FOLLOW US ON FACEBOOK FOR MORE FOX LIFESTYLE NEWS
And although Tacey is not "100 percent satisfied" with what happened, she reports that she is feeling much better.
"The main message I'd like to get across to the public is that breastfeeding is natural, it's normal, and it is absolutely nothing to be ashamed of," Tacey said.
"Individuals are welcome to have their own opinions about whether a nursing mother offends them, but I would hope that they could think of the child first."
[ad_2]

Source link